How to Learn Japanese Using Spotify, Apple Music, Amazon Music & YouTube Music
Jun 26, 2023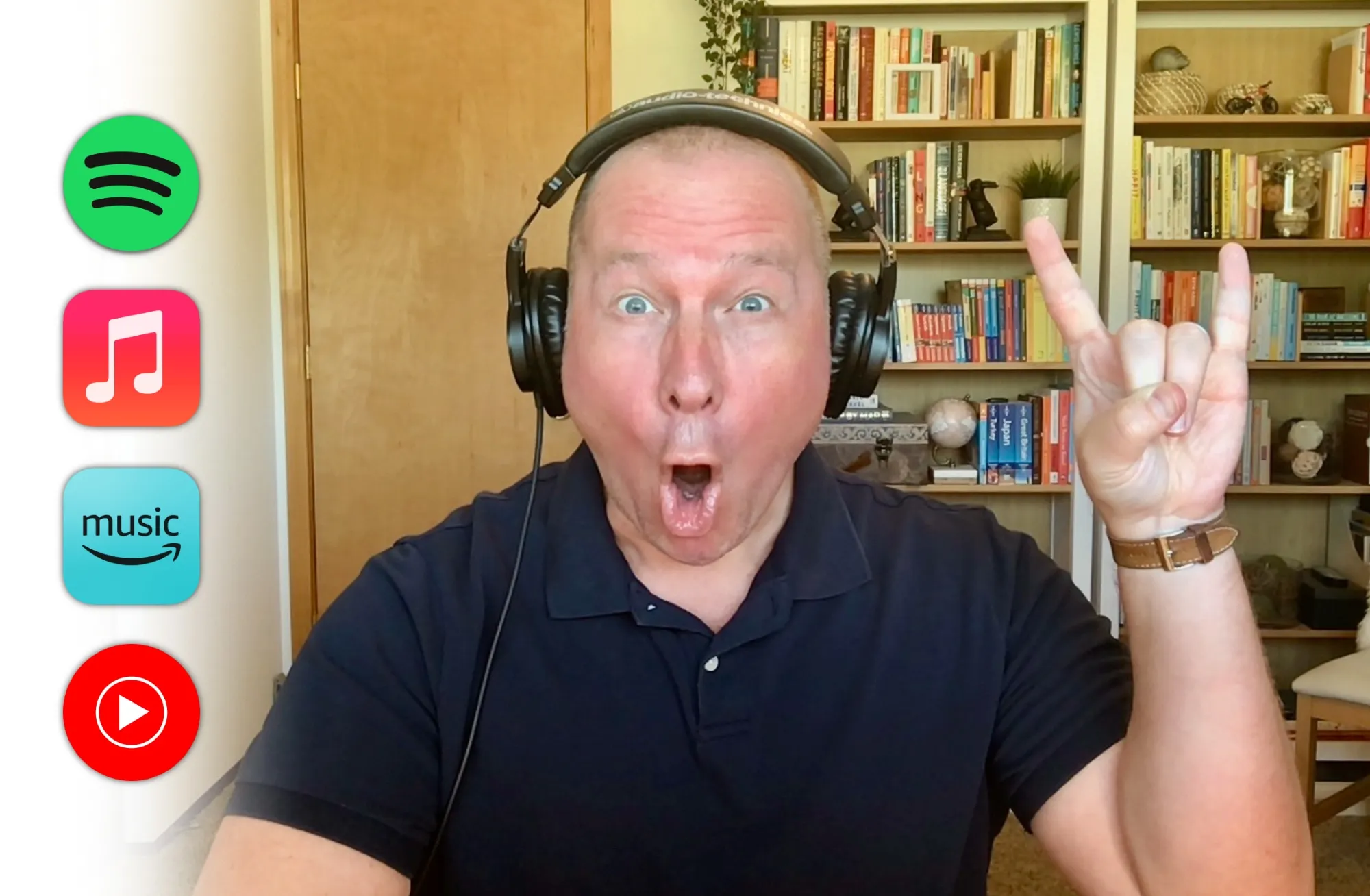 "Music gives a soul to the universe, wings to the mind, flight to the imagination and life to everything." ―Plato
Music is a wonderful Japanese language learning tool for three key reasons:
Music is fun! The most important factor in language learning is consistent daily action. And the easiest way to make sure you get your daily dose of Japanese is ensuring that you actually enjoy the process. Listening to music is inherently enjoyable for most people, and is therefore something you are more likely to do consistently.
Music makes repetition more enjoyable. Repetition is an essential ingredient in successful language acquisition, but there's one big problem: repeating resources is usually boring as hell! Reading the same article or watching the same episode of a Japanese show is less than fun. But with music we love, we can enjoy the same song over and over.
Music improves memory. Not only are the melodies and rhythms of music pleasing to the ear, but they are also useful for increasing retention and providing a scaffolding for new information. In fact, if you ever find it difficult to remember a given Japanese phrase or collocation, try saying it aloud to a common tune you know (e.g. "Yankee Doodle").
💡 Fun Fact: The two characters in the Japanese word for music―on (音) and gaku (楽)―literally mean "sound" and "fun" respectively. Now there's an apt descriptor for the power of music in language learning!
In this post, I share tips for immersing yourself in Japanese using music, plus detailed instructions for finding Japanese songs on today's most popular music streaming platforms.
How to Learn Japanese Using Music
Choose Japanese music genres that are ideal for language learning
Not all music is created equal when it comes to learning Japanese. Here are some of the best genres for language learning (arranged in alphabetical order):
Choose a few Japanese music artists to focus on
Musical taste is a very personal thing, and you will need to try out a wide range of Japanese artists to find who resonates with you most. But to help you start your journey of musical exploration, here is a diverse "tasting menu" of top Japanese bands and singers to try out (arranged in alphabetical order).
💡 Pro Tip: For more Japanese music artist recommendations, check out the r/japanesemusic subreddit. It's a great place to find recommended albums, songs, and music videos.
Study Japanese Song Lyrics
Most people will automatically associate music with listening, but kashi (歌詞, "lyrics") provide a useful way to strengthen your Japanese reading skills, too.
Lyrics also help you:
Look up new words more easily by copying and pasting into digital Japanese dictionaries.
Identify gaps in your vocabulary and grammar, which you can then look up online or practice with your Japanese tutor.
Create context and better understand the meaning of a song. This comprehension increases enjoyment and efficacy.
Most major music platforms (e.g. Apple Music, Amazon Music, Spotify, and YouTube Music) include built-in lyrics for some Japanese songs, or you can search for Japanese lyrics using the following websites:
💡 Pro Tip: You can also just do a Google search for the Japanese name of the song (e.g. 車の中で隠れてキスをしよう) followed by 歌詞 (the Japanese word for "lyrics").
Look up new words and phrases
You will likely encounter many unfamiliar words and phrases as you listen to Japanese music. Fortunately, there are some great tools out there today that let you easily copy and paste in text for instant definitions. Here are the three best tools I've found to date:
Nihongo app (iOS): Tap on the Clippings tab at the bottom and paste in your lyrics. You can tap on any new words to look them up or save them for later.
Japanese app (iOS & Android): Use the Text tab within the Japanese app to to paste in lyrics and quickly tap on unknown words for definitions.
LingQ (iOS, Android & Web): Want to study song lyrics more systematically? Try importing both the text and MP3 into the LingQ app (pronounced "link").
Use Anki to create custom flashcards
The best way to remember new words from songs is creating spaced repetition flashcards with the Anki SRS app. Make sure to include the original sentence from the song for context, avoiding single word cards with just the Japanese word on the front and the English translation on the back.
💡Pro Tip: The fastest way to consolidate new words is reviewing your flashcards right before bed and as soon as you wake up since we store memories during sleep.
Listen to the same song multiple times at different levels of analysis
As I said above, repetition is one of the essential ingredients of language learning. Music makes repetition much more enjoyable than most other forms of media, but I suggest mixing things up with different forms of repetition:
Listen to the song a few times without looking at the lyrics. Focus on getting a general gist of the song.
Now read the lyrics a few times to increase your understanding. Look up any new words you don't know.
Listen again as you read along with the lyrics. Make note of any characters that are pronounced differently than you expected.
Listen again without reading the lyrics. You will likely notice that you can now understand much more of the words and meaning.
Rinse and repeat as necessary.
Use a specific Japanese song as a conversation topic with your tutor
One-on-one online tutoring (e.g. using italki) is the single most effective way to improve your Japanese fluency. But after you've covered self-introductions, hobbies, jobs, etc., it can be tough to find interesting topics to keep things fresh. Songs provide an endless source of potential themes to chat about, and create a useful constraint for each session.
Where to Find Japanese Music
Okay, so now that I've made the case for using music to learn Japanese, the obvious question remains: Where in the heck can you find Japanese tunes?
The short answer: almost anywhere!
Most popular music platforms today have a decent amount of Japanese music to choose from, and many of the apps even include built-in lyrics written in Japanese characters.
Here are four of the most popular music streaming apps, with tips for how to get the most out of each platform.
Spotify
With over 527 million monthly users, Spotify is now one of the world's biggest music streaming services. They have also made big moves in the podcast world, buying exclusive rights to popular shows like The Joe Rogan Experience. I actually host my own podcast, The Language Mastery Show, on their free hosting platform, Spotify for Podcasters.
The easiest way to find Japanese music on Spotify is to search for a specific artist or song title using either Japanese characters or roumaji.
💡 Pro Tip 1: To see lyrics in the Spotify app, simply scroll up (if available, there will be a box below the music player). Tap the arrow icon in the upper-right to see all of the lyrics.
💡 Pro Tip 2: The bad news? You cannot copy lyrics from within the mobile app for studying in the Nihongo or Japanese app. The good news? You can copy and paste from within the web version of Spotify.
💡 Pro Tip 3: Want to get a little Japanese reading practice as you use the Spotify app? Change the display language to Japanese in the settings: Settings > Spotify > Preferred Language > 日本語.


Apple Music
Apple Music is my go-to music service these days, though Amazon Music, Spotify, and YouTube Music are all strong options, too (see below). Here are a few quick tips to learn Japanese using Apple music:
Sign up for Apple Music if you haven't already. The best deal is subscribing to Apple One, which also gives you access to Apple TV, Apple News, Apple Arcade, Apple Fitness, and 2 TB of storage on iCloud+.
Open the Apple Music app (ミュージック) on your iPhone, iPad, Mac, Apple TV, or PC. Search for a Japanese artist, song, or album. You can use roumaji (e.g. Onitsuka Chihiro), kana (e.g. おにつかちひろ), or kanji (e.g. 鬼束ちひろ).
Not sure where to start? Don't have any favorite Japanese artists or songs yet? I've got you covered! See my list of recommended artists above or browse these popular Japanese artists available on Apple Music.
Turn on dynamic karaoke style lyrics by tapping the quote icon in the lower-left while playing a song. Tap a line to repeat it or jump to another part of the song (Note: this only works for songs with built-in lyrics).
If you want to see all of the lyrics at once, tap the ellipsis icon to the right of the song title (…) and then View Full Lyrics (歌詞をすべて表示).
💡 Pro Tip: If a particular song doesn't include lyrics in Apple Music, you can add your own!
Open the desktop version of Apple Music.
Control/right-click on the song in your library.
Click Get Info.
Click the Lyrics tab.
Paste in the lyrics.
Amazon Music
If you are an Amazon Prime member, you get free access to millions of songs, including thousands of Japanese tunes.
Sign up for Amazon Prime.
Browse Japanese songs on Amazon Music.
Download the Amazon Music app.
💡 Pro Tip: To reveal lyrics in the Amazon Music app, simply swipe up on the ≡ icon in the middle of the screen while listening to a song.
YouTube Music
Though YouTube is best known for over-the-top challenges (e.g. MrBeast), unboxing videos, DIY tutorials, etc., the platform has increasingly focused on music content in recent years. There is now a dedicated YouTube Music app for all the major platforms, which allows you to more easily find and enjoy music. The app lets you create playlists, read song lyrics synced to the music, and even switch to the music video if available.
There are two easy ways to find Japanese songs on YouTube music:
Navigate to the J-Pop collection: Explore > Moods & Genres > J-Pop.
Tap the magnifying glass icon in the mobile app or click Search at the top of the browser version and enter a Japanese artist or song name using Japanese characters or roumaji.
💡 Pro Tip 1: To see lyrics in the YouTube Music app, simply tap the Lyrics tab at the bottom of the mobile app or on the right when listening in your browser.
💡 Pro Tip 2: Want to repeat a line or jump to another part of the song? Just tap the line in the lyrics!
💡 Pro Tip 3: Want to copy the lyrics over to another app? The lyrics can't be copied from within the mobile app, but they can be within the browser version.
__________
Photo by Eric Nopanen on Unsplash