The 8 Best Tools to Level-Up Your Japanese Reading Skills
Jun 06, 2023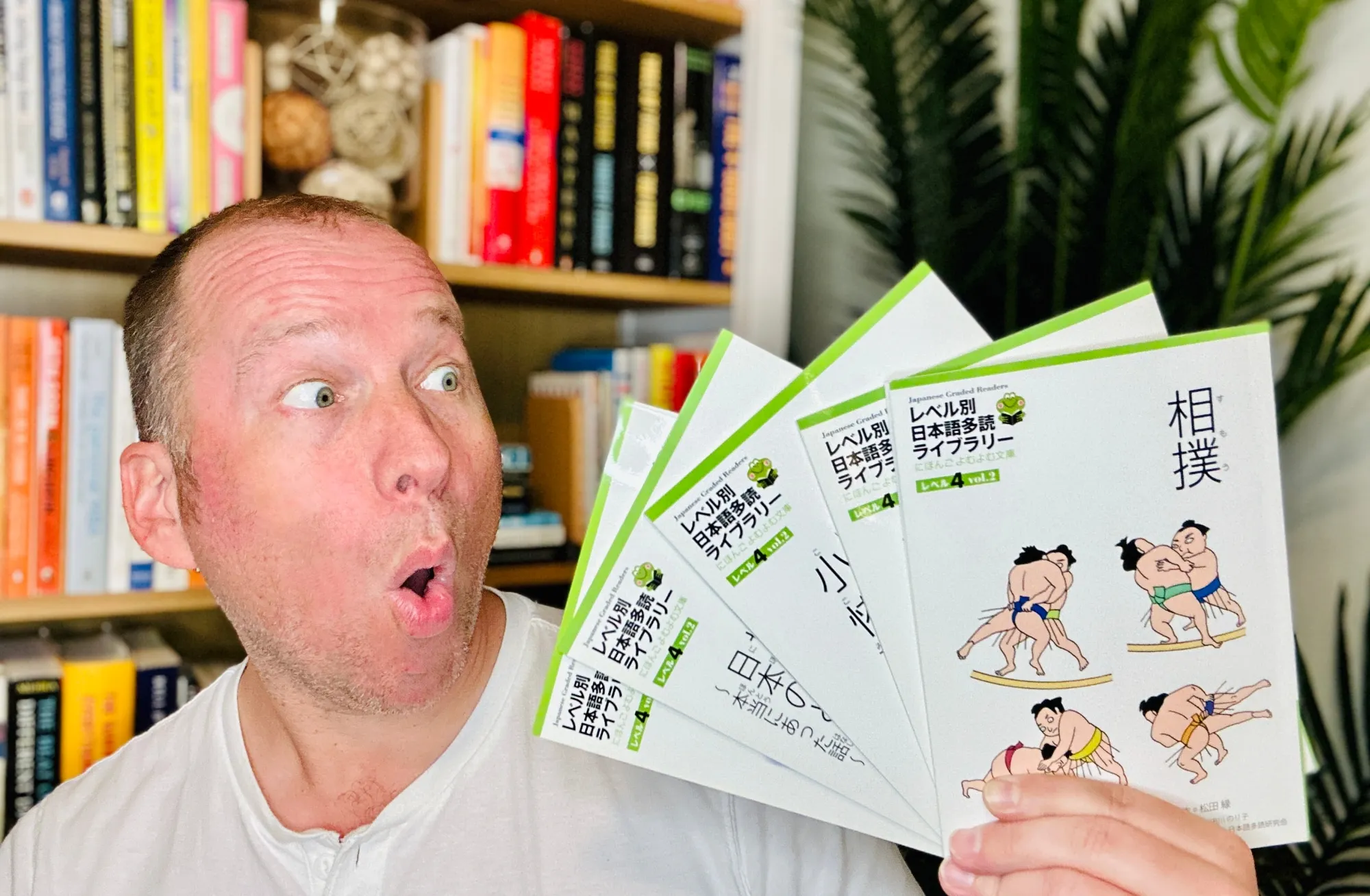 When you first start out in Japanese, learning to read the language can feel like a truly insurmountable task. When I first began learning Japanese in the late 90s, I remember staring at a page of a Japanese book I happened upon at Kinokuniya (紀伊國屋書店) in Seattle, and woefully thinking to myself, "I will NEVER be able to read this!"
Unlike learning to read a Latin-based language like Spanish that shares the same basic letters, Japanese has a whole new set of symbols to master. In fact, not just one set, but three! You have to learn the two kana (仮名) systems—hiragana (平仮名) and katakana (片仮名)—which each have 46 basic symbols representing the same sounds. And then there are the roughly 2,200 kanji (漢字, lit. "Chinese characters") you have to learn to be considered literate in Japanese. Oh, and most kanji have multiple readings depending on the word, context, or character compound.
Oof.
Then add in the challenges of a different word order (Subject-Object-Verb instead of the Subject-Verb-Object order familiar to speakers of English), complex verb conjugation, numerous levels of formality, a lack of spaces between words, and extensive use of onomatopoeia.
Double oof.
Fortunately, all of these challenges can be overcome with sufficient exposure and practice. Even a language as seemingly difficult and different as Japanese cannot survive the relentless onslaught of focused learning. If you spend enough time and energy reading Japanese, I promise that you will eventually crack the code.
You will then be able to read Japanese texts for pleasure, may it be leafing through your favorite manga (漫画) on a lazy Sunday afternoon, getting your daily news fix from the Asahi Shimbun (朝日新聞), or finishing your first Murakami (村上) novel in the original.
I have been learning and teaching Japanese for over two decades, and have tried out hundreds of learning resources, books, and apps. Here now are the best Japanese reading tools I have found to help you level-up your reading skills and begin enjoying authentic Japanese texts, including a healthy mix of resource types (apps, websites, courses, and books).
For even more Japanese learning resources, check out my book Master Japanese: How to Learn Japanese Anywhere in the World.
The Best Apps & Websites to Improve Your Japanese Reading Skills
Satori Reader
Want to break through the dreaded intermediate plateau? Do you enjoy reading short stories and news articles? Do you prefer learning Japanese vocabulary and grammar in context? Then Satori Reader just might be the ticket for you.
The thoughtfully designed app (developed by Brak Software, the creators of Human Japanese) helps you improve your Japanese reading and listening skills with interactive, learner-friendly stories, news articles, dialogs, and travelogues.
Each lesson in Satori Reader includes:
Per-sentence human-generated English translations to check your understanding and build context
Per-sentence Japanese audio recordings to strengthen your listening skills in bite-size chunks
Linked definitions for each and every word with context-specific meanings tailored to each lesson
Each word can be bookmarked and later practiced with spaced repetition flashcards and customizable review intervals
Detailed explanations of multi-word phrases and tricky grammar that are likely to cause confusion for intermediate Japanese learners
I especially like the detailed Japanese text display options, which allow you to quickly adjust reading difficulty based on your current level:
Custom kanji display options: You can turn off kanji completely, show all kanji, or display just the characters you know based on grade level, frequency, popular textbooks like Genki I and II, or custom imports from kanji apps like Kanshudo, NativShark, and WaniKani.
Custom furigana display options: Depending on your level, you can choose how you want to display "furigana" (振り仮名), the little hiragana readings shown above kanji. You can show them above all kanji, only above certain kanji based on your level, or turn them off completely.
Custom word spacing options: Unlike English, Japanese text does not have spaces between words. This can make it tough for beginners to properly parse words and phrases, so Satori Reader gives you the option to add spaces after words and particles.
Levels:
Reader is specifically designed for intermediate learners, but the custom display options listed above help accommodate lower and higher levels.
Platforms:
Pricing:
Satori Reader Free: The free version of the app allows you to read and listen to a limited number of stories.
Satori Reader Pro: The paid version unlocks the full library (1120+ episodes) and allows you to download audio to your device.
+ Create a free Satori Reader account
LingQ
LingQ (pronounced "link") is a language-learning app, website, and community created by the Canadian hyperpolyglot Steve Kaufmann. I have been using the app for years and highly recommend it.
The LingQ method is built around the belief that we acquire languages through extensive reading and listening, not conscious study. This is exactly how Steve learns languages (he's up to 20 as of writing!), though LingQ certainly makes the process much easier than the manual, analog methods at his disposal in the pre-internet era in which he learned his first handful of foreign tongues.
"Compelling content has always been the key to my language learning. However, it took me 45 years to learn 9 languages the old way, but only 10 years to learn 7 more on LingQ." —Steve Kaufmann
One of the key features of LingQ is its vast library of articles, courses, and podcasts in dozens of languages. You can choose from beginner, intermediate, and advanced materials, and a wide range of topics such as:
Books
Business
Culture
Entertainment
Food
News
Politics
Science
Sports
Technology
Travel
And you can even import your own content! You can either manually import text from emails, social media, etc. or automatically import online content with just one click using the LingQ Importer extension for Chrome, Safari, or Firefox. You can even import subtitles from Netflix, YouTube, Viki, and more!
The most powerful feature in LingQ is the ability to quickly save new words or phrases you encounter while reading or listening. These saved items—called "LingQs"—are stored in your personal vocabulary list for later review and will automatically be highlighted in yellow when they appear within new texts you read. The app includes a number of powerful tools to help you master your LingQs, including spaced repetition flashcards and contextual quizzes taken from your reading.
As you encounter your LingQs in new texts or review activities, you can mark the status of each word or phrase using one of five levels:
new
recognized
familiar
learned
known
As someone who likes tracking things (e.g. daily steps, macronutrient ratios, pomodoros), I appreciate that LingQ automatically keeps tabs on your daily study activity:
Streaks (days in a row that you hit your learning goal)
Known words
LingQs
LingQs learned
Hours of listening
Hours of reading
Words of writing
Hours of speaking
I find that these metrics help gamify the learning experience and increase my motivation and consistency (two of the essential ingredients in language learning).
LingQ also has some useful Japanese-specific display settings, including:
Romaji transliteration
Hiragana transliteration (furigana)
Optional word spaces
Levels
Beginner
Intermediate
Advanced
Platforms
Pricing
Free: The free version of LingQ gives you access to the entire LingQ library and the ability to: 1) save 20 LingQs, 2) create 5 custom lessons from imported content, 3) create 1 audio playlist, and 4) use flashcard quizzes. You'll probably run out of LingQs pretty quickly, but the free level gives you a good taste of LingQ is all about.
Premium: The paid version of LingQ is $12.99 month (or $8.99/month when you pay yearly). It unlocks: 1) unlimited LingQs, 2) unlimited imports, 3) unlimited audio playlists, 4) full sentence translations, 5) auto-generated audio for imported texts, 6) statistics tracking, 7) offline access, and 8) the ability to participate in language learning challenges.
NHK News Web Easy
News Web Easy (やさしい日本語のニュース) is a free online newspaper from the Japanese public broadcaster NHK. Though originally created as a resource for Japanese children, the site's simplified language and furigana readings also make it great resource for intermediate adult language learners.
Here are my favorite features:
All news articles include audio recordings so you can strengthen your listening skills, too.
You can quickly toggle the furigana readings on or off to test your knowledge of kanji readings.
Proper nouns are color-coded to reduce ambiguity: green for people names, orange for place names, and blue for company names.
+ Browse free news articles on NHK News Web Easy
Nihongo
Nihongo is my go-to Japanese dictionary app. It is packed with learner-friendly features, and I especially like the way it helps you master Japanese through reading authentic content.
Use the nifty "Clippings" feature to paste in Japanese text from blog posts, websites, Japanese Wikipedia articles, etc. and then quickly look up and save new words. You can then study these words in an efficient way using built-in spaced repetition flashcards. I also like that dictionary entries include a "Contained in Clippings" section that shows which of your imports include that specific term.
You can also use Nihongo's powerful OCR (optical character recognition) feature to look up unknown words you encounter in physical books, comics, magazines, menus, etc.
Levels
Beginner
Intermediate
Advanced
Platforms
Pricing
Free: The Nihongo app is free to download and use, but you can upgrade within the app to gain access to additional features.
Pro: Upgrade to get access to flashcards, audio, OCR, Safari integration, Clippings, and more. There is a 14-day free trial and then you can pay per month ($3.99/month), per year ($29.99/year), or just once for lifetime access ($74.99).
For more recommended Japanese dictionary apps, see The 8 Best Japanese Dictionary Apps for Web, Mobile & Desktop.


The Best Courses & Books to Improve Your Japanese Reading Skills


Japanese Uncovered
Japanese Uncovered is a story-based language learning course created by British polyglot Olly Richards.
Instead of trying to artificially force Japanese into your head through boring textbooks and ineffective apps, Olly's StoryLearning® approach teaches you new words and structures in-context through the power of story.
This highly effective method trains you to THINK in your target language by presenting the language in a natural, contextual way (similar to how you learned your first language as a kid).
The course is built around an original 10-chapter story called The Samurai's Treasure (侍の宝). Each module includes includes text, audio, video, and learning resources to help you immerse yourself in Japanese. Your primary task is to read, listen, and repeat to let the vocabulary and grammar sink in. But you will get expert guidance along the way from Olly and a co-teacher.
Levels
There are four levels of Japanese Uncovered, which take you all the way from an absolute beginner level (A0) to an upper-intermediate learner (B2):
Level 2 – Pre-Intermediate (Open to Level 1 grads only)
Level 4 – Upper-Intermediate (Open to Level 3 grads only)
+ Sign up for a free 7-day trial
Short Stories in Japanese for Intermediate Learners
In addition to his Uncovered Courses, Olly has also worked with Teach Yourself to create a number of excellent graded readers. The Japanese reader, Short Stories in Japanese for Intermediate Learners, lets you "read for pleasure at your level, expand your vocabulary, and learn Japanese the fun way!"
The book includes eight original stories written in a learner-friendly format, and covers a range of engaging genres, including:
crime
history
thrillers
science fiction
Each chapter includes:
A full plot summary to create context and increase comprehension
Beautiful manga-style illustrations to set the scene for the story
Text written in Japanese (kanji with furigana readings)
Spoken dialogues covering a range of formality levels
A vocabulary list with English translations
Comprehension questions
Before you jump into the stories, make sure to first read the important introductory sections that train you how to use the book effectively:
How to Read Effectively
How to Read in Japanese
The Six-Step Reading Process
I also recommend getting a copy of the companion audiobook so you can strengthen your listening skills, too.
Level
Short Stories in Japanese for Intermediate Learners is designed for learners at the following Japanese level:
ACTFL Level: Low-mid intermediate
CEFR Level: B1 to B2
JLPT Level: N3
Pricing
Short Stories in Japanese for Intermediate Learners is available on Amazon in the following three formats:
+ Get Short Stories in Japanese for Intermediate Learners on Amazon
Read Real Japanese
Want to dip your toes into some authentic Japanese texts but aren't yet ready to plunge into the deep end? Read Real Japanese is a great transitional resource for intermediate to upper-intermediate learners who know a decent amount of kanji, vocabulary, and grammar, but still need a little handholding in the form of translations, glossaries, and usage notes.
There are two books in the series to choose from:
Both books include:
Vertical Japanese text to help you get used to that format
English translations of all complex sections in the text
A Japanese-English reference dictionary
Detailed notes on nuance, usage, grammar, culture, etc.
Free companion audio narrations recorded by a professional voice actor
Detailed author profiles
Japanese Graded Readers
The Japanese Graded Reader series (レベル別日本語多読ライブラリー) from NPO Tadoku Supporters includes numerous volumes broken into five levels, from Level 0 (Beginner) to Level 4 (Upper-Intermediate).
The books cover a diverse range of topics, including:
biographies
culture
daily life
fiction
folktales
history
horror
humor
mysteries
romance
Each volume includes:
Stories printed in vertical text (except Level 0, which is printed horizontally left to right), with furigana readings next to all kanji
Drawings and photographs to create context and increase comprehension
Companion audio CDs to strengthen your listening skills
Levels
The Japanese Graded Reader series come in the following five levels (see this page on the NPO Tadoku Supporters site for more details about each level):


Pricing
You can purchase complete bundles per level with 3 volumes each for about $90 on Amazon.
Or you can purchase individual volumes for $30 to $50 depending on the volume or level.
Hungry for more Japanese resources?
My book Master Japanese: How to Learn Japanese Anywhere in the World shows you exactly how to learn Japanese using my Anywhere Immersion Method, and includes hundreds of John-tested, John-approved Japanese learning resources.